Katie.Hayden
Katie.Hayden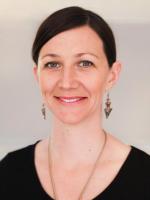 Katie Hayden is one of our Auckland Consultants
I am a counselling psychologist, based in Ellerslie working face-to-face and online. I have eight years clinical experience. I am currently in training with Sex Therapy New Zealand and have worked previously with clients who experience chronic pain, sexual pain and other sexual difficulties. Additionally, I have worked in the area of gender-affirming healthcare. These jobs led me to train through STNZ to broaden my scope of practice. I am trained in the bio-psychosocial model and also use ACT and attachment-based approaches in therapy. 
I am particularly interested in working with people whose sex education has left them 'in the dark' about their own bodies and desires, including those with religious backgrounds. 
I am passionate about working with clients to make sense of what they think, feel and want in terms of sex and intimacy, and I support them in communicating this to their important other(s). I provide a confidential and non-judgemental environment to ensure my clients feel safe exploring what is important to them.
My fee is $185.00, per 50-minute session. Please also be aware that once made, appointments not kept or cancelled with less than 24 hours' notice will be charged.
I am sorry I am not able to take any further appointments at this time!
Click here
to return to the appointments page as we have other therapists waiting to help you.